School Management Committee
Loyola International School
MESSAGE FROM THE CHAIRMAN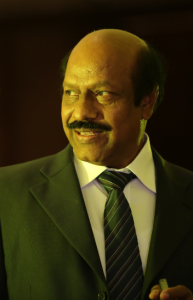 "You can teach a student a lesson for a day; but if you can teach him to learn by creating curiosity, he will continue the learning process as long as he lives." -R Venkat Rao
An education of the highest quality is the greatest gift that parents can give to their children. We at Loyola Group of Schools consider education as not just an accumulation of facts but it is preparation for life itself.
The aim of our schools is to adopt a systemof basic education in a child-friendly environment that emphasizes knowledge, humanity and sciences and acknowledges the fact that each child is distinctive. We believe that our students need to learn that the secret of success and contentment lies in discovering one's own strengths as well as limitations. We at Loyola Group of Schools prepare our student not only programmed for "success" but also ensure that they are trained to handle those small moments of failures and making them humans. You would find a wealth of learning opportunities at Loyola Group of Schools that would serve as an essential steppingstone to a fulfilling life and career.
Our school syllabi allow our teachers the flexibility to adopt innovative methods to stimulate interest and attention among the students and develop in them an appreciation for the values of the past, the excitement of the present and the challenges of the future. The aim is to make them successful not only in life, but also conscious of their duties and responsibilities towards their fellow citizens.
I wish the teachers and student of Loyola International School, Oasis Branch great success in the coming years.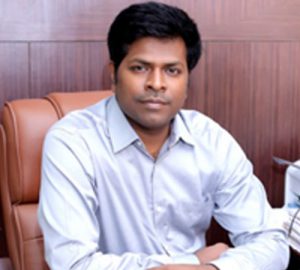 Greetings! And thank you for your interest in our institution. "Somewhere, something incredible is waiting to be known." –
R Anup Chakravarthy
. What an amazing quote and I realized how relevant it is for all of us: children, parents and teachers. There is never any point in the life of a person when he can sit back and say. "There is nothing more to learn, I can relax with the comforting thought that the universe around me is an open book. I know it all." Education is an enduring exercise that can be unbelievably exciting if only we wish to be part of that experience and take a trip to every imaginable place on the earth. To achieve this, firstly we all have to collectively believe in the common vision: children, teachers and parents have to understand that education is not restricted to lessons taught in the classroom from textbooks. Parents and teachers must encourage children to ask as many questions as they can. We want to harness their ingenuity and innovative thinking. We all want to ensure that we create good human beings, conscious citizens and smart people. This is and will always be our long-term vision. My message to the Principal, Staff, Students and esteemed Parents of Loyola Group of Schools, is to cognise of what education really means and let us all imbibe our values from this understanding. "Imagination is more important than knowledge. For knowledge is limited to all we now know and understand, while imagination embraces the entire world, and all there ever will be to know and understand. "- Albert Einstein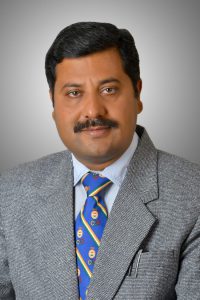 Welcome to the website of Loyola International School situated in the heart of Doha. Our school's purpose is to educate the youth of the world to take their productive place as leaders in the global community by offering our learners a comprehensive education. We are a caring community where students' needs are a priority and traditional, modern, and western educational values are respected and encouraged to co-exist. Our School programs aim to provide a challenging academic environment emphasizing learning, as well as social and personal growth.
As the Principal of Loyola, I feel honored and privileged to be part of an educational institution where every stakeholder is a learner and every day is an opportunity to learn and discover. I am delighted that the school's values align with my own personal values, including the importance of trust, respect, innovation, and a sense of community. I know that the development of the school over the past few years has been significant. The future will build on these firm foundations focusing on the quality of school life, especially for the benefit of our learners.
The curriculum emphasizes the acquisition of knowledge, understanding, critical thinking, and problem-solving abilities for all students attending our school. We believe that every learner is unique and special and that they all have the ability to learn. We believe it is our responsibility as educators to nurture and develop every learner to prepare them for life. Learners are continually encouraged to appreciate our diverse community and to care for others by becoming global citizens, and develop a concern and active respect for the environment. Currently, Loyola International School is a C.B.S.E (National) authorized School for the Secondary Level. Loyola is also under the process of state accreditation of Qatar Schools (QNSA), following a lengthy period of evaluation and a rigorous inspection process. We strongly believe in the importance of teachers, parents, and administrators collaborating and communicating openly and frequently. We continually improve the quality of tools of communication, including giving our parents access to an interactive website where they can retrieve pertinent information about their children's academic achievements. We look forward to working with you as we help your children create a school where parents are welcome at any time, students are engaged in meaningful learning and the staff members are valued and appreciated for their efforts. Your child's learning involves and revolves around an effective partnership between home & school. We know that the stronger the partnership is, the more your child will benefit. You are encouraged to regularly check our website and read about our exciting academic and co-curricular activities.
Our journey towards excellence continues………….
"With all my love, best wishes and blessings"
–Pramod Kumar Ranwaka
An institution helmed by visionaries and academic leaders that together envision an environment of utmost care for every student's growth and development.
S.No

Member Name

Designation in SMC

Occupation