Loyola International School
At LIS, we offer the Early Learning program which offers a blend of the reputed Montessori approach with best practices of modern pre-school education introduced by the Central Board of Secondary Education (CBSE). Our school curriculum is one of its kind and rests on five solid pillars that will give our early learners a strong foundation as they begin their student life.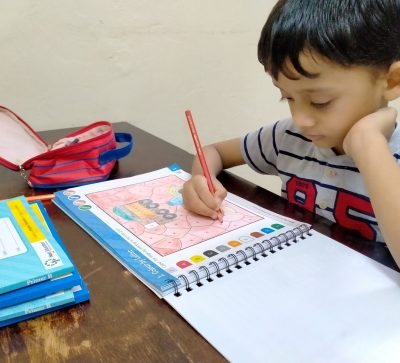 A Unique Kindergarten Curriculum 
Based on a cutting edge combination of world-renowned Montessori philosophy and original theory formulated through years of research and insight at CBSE, LIS enables our students to reach their fullest potential in an age-appropriate learning environment which recognises their individuality and meets them where they are.
It not only fosters the development of cognitive, expressive, and motor skills, but also a sense of social responsibility, cultural awareness, and environmental consciousness – all key components of our holistic teaching.
Creating Leaders of Tomorrow

Graduation to Primary School
Our qualified teachers have a passion for teaching and learning and are handpicked for every class. Of the many important criteria that we look for in our teachers, excellence in teaching remains foremost.
Creating Leaders of Tomorrow
Children are natural entrepreneurs – curious, ambitious, and excited. Conducting presentations, making tiny yet creative working models for school related activities and events and working in teams to convey innovative messages are some examples of how we help children bring out their entrepreneurial skills. Through the class leadership initiative, we provide opportunities to every student on a regular basis to be a leader of their class thereby shouldering responsibilities entrusted upon their young shoulders.
With a strong emphasis on 'going green" we inculcate in the young minds the concepts of recycling which help minimise the amount of waste we create. Introducing these ideas to children early on, can have a significant impact on their awareness as they get older. Sowing seeds, planting trees, composting, creating recycled classroom teaching resources, activities using recycled material etc. teach our children about living responsibly.
These efforts are part of our Sustainability and Reliability Program that is conducted as an annual exercise as part of co-curricular activities, internal events as well as our support to the World's Global Goals.
We have made it part of our mission to help students understand the importance of connecting and contributing to the society. Students participate in events like beach cleanup initiatives, book collection drives, environmental initiatives and other activities that require them to make a constructive effort to improve society.
Graduation to Primary School
At the end of Kindergarten, we realize it is the next step towards building an innovator, enterprenuer or leader of tomorrow, and hence our teachers and Senior students are entrusted with the invaluable initiative of ensuring that each child has a seamless transition to Grade 1 where skills like reading, writing and numeracy are required. We provide these to students in Kindergarten 2 to smoothen transition to primary school with an annual Graduation Ceremony that is conducted with a lot of pomp and glory.